Blog
Why Rent Equipment? Here's Why!
September 12, 2019
We live in a world in which construction is everywhere, and we mean everywhere. How do you know what equipment you need and what you don't? Even if you know what you need for your project, how do you know the most cost-effective method of acquiring it? How long will you even use a piece of equipment once it's bought?
At Eagle Power & Equipment, we're here to help silence the questions rolling through your mind. We want to offer another solution beyond purchasing new or even used equipment – renting! At one time, renting heavy equipment had a bad rap, but we've perfected our rental process to make it streamlined and cost-efficient.
There are many contributing factors to why renting equipment is beneficial in the construction industry today. Today, we want to discuss some of those reasons and help you determine whether renting is the right thing for your project.
One & Done Payment
Unlike when new equipment is purchased and the payments set in, a piece of rental equipment will cost you once, and once only. Now you'll have the ability to direct the capital otherwise spent on equipment payments toward more useful situations.
Maintenance-Free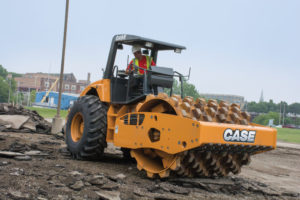 Most rental companies provide maintenance, repairs, and spare part changes, which saves you time and money that you would ordinarily spend on a piece of equipment. Picking up a piece of equipment that is guaranteed to be maintained properly and returning it under the same guarantee sure beats buying equipment, just to find out that it needs thousands of dollars-worth of repairs!
Save on Storage
When you choose to rent equipment rather than purchase it, you relinquish the need to pay for costly equipment storage. That's one less bill for you, so you can instead use that cash for production costs or purchasing equipment that you'll use on a more frequent basis.
More Bang for your Buck
Many companies, in order to push rental numbers for their business, will provide rental equipment that is one of the more recent generations of the machine in question, rather than the earlier generation that you would have purchased new or used. This means speedier production times and more efficient uses.
Renting equipment makes the construction world go 'round, and we're excited to help you get started! For more information or to get started, give the friendly folks at Eagle Power & Equipment a call at our Montgomeryville (Chris Johnson: 215-699-5871), West Chester (Anthony Pierantozzi: 610-458-7054), Doylestown (Mike Liemberger: 215-348-9041) or New Castle (Jeff O'Neill: 302-652-3028) locations, or send us an email and we'll respond to you directly. We look forward to hearing from you!
Related Articles