Blog
Manufacturer Spotlight: Daniels Plows
November 16, 2018
Here at Eagle Power & Equipment, our manufacturers are what makes us who we are. We take pride in each and every manufacturer whose equipment we sell, and today we want to spotlight a company whose products will soon be of the utmost importance: Daniels Plows.
Based in Melrose Park, IL, Daniels Plows distributes high-quality tractor and truck plow attachments all over the nation, specifically to those parts of the US that experience heavy snowfall. Today, we want to highlight the types of plow attachments that Daniels distributes to us, and how each style of plow is uniquely functional.
Versatach Plow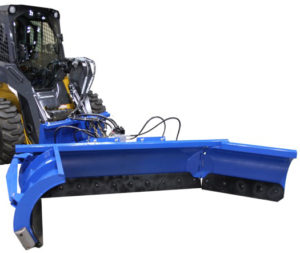 The Versatach plow designed by Daniels utilizes hydraulics from your tractor's 3rd valve, giving it the ability to angle not only the whole attachment 35˚, but also pivot the left and right wings individually for maximum snow control. The wings can fold in up to a 90˚ angle for hard-to-reach spaces or just to create more space in a storage warehouse.
Not only is this plow attachment versatile, it is designed to stand up to the test of time; the hydraulic cylinder rods are treated with black nitride for 5x the corrosion resistance over leading treatments. The design also allows for coverage of multiple sites, not just standard flat blacktop.
Wing Plow
Daniels' wing plow features a patented fold-back wing design that allows for a huge range of plow sizes, from 14' all the way to a staggering 20'. The wings can fold all the way back-to-back with the main plow structure, or can be folded out to create a 45˚ angle with the main body. This allows for unsurpassed maneuverability, ease of transport, and a broader range of job capabilities calling for smaller plow sizes.
Pinnacle Pusher
The unique design of the pinnacle pusher allows for ultimate push and pull control in heavy snowfall. It was used almost exclusively in the harshest conditions of Alaska, including the North Slope – which is almost completely frozen year-round – and is now introduced to all Daniels dealers.
The pinnacle pusher eliminates the endless struggle of pulling snow away from curbs and garage doors; the patented rotating-hinge technology allows the while bucket to upend, creating a scooping arm to be lowered over the snow, parallel to the hard edge. The bucket can then pull the snow away from the curb or door and create a pile, which can be pushed away using the traditional plow function.
Pull Plow
The pull plow does not replace a standard front-facing plow; it simply complements it by removing snow from any hard-to-reach areas, such as in front of garage doors or around curbs. Daniels pull plow fits virtually any 4WD vehicle equipped with a 2" receiver-type hitch.
This plow is perfect for residential driveways and circle drives, which can have strange angles that a front plow may have trouble reaching. It's also much safer than back-dragging snow into a busy street, since snow removal is always done while moving forward.
At Eagle Power & Equipment, we love our manufacturers and the equipment they distribute. Since we're getting into the season in which Daniels Plows reigns, make sure to visit one of our store locations in Montgomeryville, PA, Eagle, PA, or New Castle, DE, or send us an email at [email protected]. We look forward to hearing from you!
Related Articles