Blog
Tips for Buying a Used Excavator
December 11, 2018
When it comes to buying used equipment, there are lots of important factors to consider. What sort of treatment was the machine given before? How much use did it really endure? Did the previous owners stay up-to-date on maintenance?
At Eagle Power & Equipment, we understand the value that comes with peace of mind. That's why we thoroughly inspect every piece of equipment that comes across our lot for any imperfections or potential defects to be fixed before the equipment is posted for sale. Today we want to focus on excavators; specifically, the important components to inspect before purchasing one used.
Inspect the Bucket Thoroughly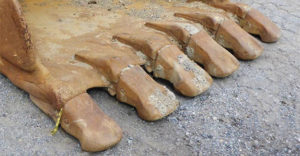 The bucket is one of the most important features of an excavator; if it shows signs of overuse or misuse, that could certainly be a cause for concern. A common visible defect of excessive wear and tear is "scalloping" of the bucket teeth, which is not necessarily a sure sign that the bucket needs immediate replacement, but indicates a reduced cutting force.
Check for Play/Movement
Excessive play in the swing radius of your excavator could lead to damage or even potential injury. When the housing is rotated, it should be a tight, smooth rotation. Any additional play can potentially damage the slew ring, which is one of the most expensive parts to replace on the machine. The bushings and pins should also be inspected for unnecessary movement.
Ensure Operational Hour Meter
An operational hour meter is crucial to accurately depict the amount of wear the machine has endured. A broken hour meter could mean that the machine has been used more than the meter reads, which could affect the useful lifespan of the equipment. If the hour meter does not appear to be operational or the reading is questionable, check the control pedals. If they exhibit signs of excessive wear, it could indicate that the excavator has done more work than the log notes.
Inspect for General Wear & Tear
Of course, no used equipment is going to be perfect. Heavy equipment is operated in extreme conditions and performs extreme tasks every day. However, large cracks or bends in the metal are never a good sign, particularly if they occur at key connection points or weld lines. Cracks or dents could imply that the machine was not properly cared for by its previous operator, and the mechanics of the equipment should be closely inspected to avoid premature failure.
Purchasing used equipment can be a great way to build your fleet and grow your business. Make sure you're getting the best bang for your buck and contact us at Eagle Power and Equipment today! Send us an email at [email protected] or stop by one of our locations in Montgomeryville, PA, Eagle, PA, or New Castle, DE. We look forward to speaking with you!
Related Articles