Blog
Team Spotlight: David Boe
April 24, 2017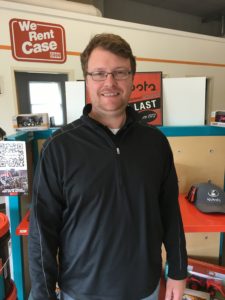 Our team spotlight series highlights some of the great members of our team here at Eagle Power & Equipment. Get to know our awesome team that helps ensure Eagle Power & Equipment remains a trusted and respected authority in heavy equipment rentals, sales and service for PA, Maryland, and Delaware.
Next up on the hot seat from our Uwchan location is Operations Manager David Boe. Find out what David had to say below!
Q: Do you recall any embarrassing moment at work?
A: Recently I rolled my ankle getting out of my office chair and could barely walk for the rest of the day. Office injuries are a tough one to spin when you work with technicians in the shop.
Q: If you had to eat one meal, every day for the rest of your life, what would it be?
A: One meal for the rest of my life would have to be Beer Boys Pizza. A dive bar at college that had a phenomenal Sicilian pizza.
Q: What advice would you give to recent new hires?
A: There will be a few things that are out of our hands given what we do. Try not to get frustrated and embrace the obstacles in front of you and change what can be changed to the best of your abilities.
Q: What is your greatest fear?
A: Not having a customer's order ready when they come to pick up their parts and calling Salesmen to tell them they did something wrong.
Related Articles