Blog
Loader/Backhoe Maintenance Tips
July 19, 2017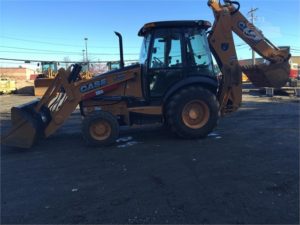 Our popular blog series on heavy equipment maintenance tips continues today with tips on loader/backhoe maintenance.  The goal of the series is to save you downtime and repair expenses by keeping your team informed on proper maintenance techniques for your heavy equipment. You can browse our previous excavator maintenance tips or wheel loader maintenance tips through the links.
Just as with your excavator or wheel loader, your loader/backhoe is simple to maintain when following a Loader/Backhoe Inspection Checklist. Such a list should cover all service points, including:
Safety equipment & operator cab
Engine
Powertrain
Tier 4 CEGR
Tier 4 SCR
Cooling system
Brake & steering system
Fluids & lubrication
Hydraulics
Electrical system
One of the most important maintenance tasks for your loader/backhoe is keeping it properly greased, while avoiding excess grease that can collect dust and dirt, getting into joints and causing more wear and tear. Any noise coming from pivot points, joints, bearings, bushings, or other areas needs to be dealt with immediately. Ensure you're using the proper grease by referencing your owner's manual or by asking a trusted heavy equipment dealer like Eagle Power & Equipment.
Make sure your operators pay attention to even small details. Little things like proper tire pressure, clean tracks, and keeping hydraulic hoses secured near the stick and boom can prevent expensive problems such as excess tire wear, track stability issues, and ruptured hoses.
One last tip for improving the life of your loader/backhoe is to treat it well in cold weather (like we get here in PA). Store your equipment indoors overnight if possible. If not, using an engine block heater can ease starting while taking some of the wear and tear out of those cold starts. And of course, make sure your engine coolant is clean, fresh, and fortified with the proper concentration of antifreeze.
If you need service or repairs, have a question, or just would like to learn more about loader/backhoe maintenance, call an Eagle Power & Equipment expert at one of the numbers below. You can find additional resources, such as maintenance charts for loader/backhoes, on our website.
Montgomeryville, PA area – 215-699-5871
Eagle, PA area – 610-458-7054
New Castle, DE area – 302-652-3028
Related Articles